A SWOT analysis is a helpful tool for gauging and understanding the effectiveness of your work performance.
Although it is generally used for evaluating business practices and strategies, you can actually utilise a SWOT analysis as a personal trainer as well.
After all, you took the time and effort to earn your Level 2 and 3 diplomas, so why wouldn't you want to ensure you are providing the best version of your services to clients?
SWOT itself stands for:
Strengths
Weaknesses
Opportunities
Threats
Read along and learn just how powerful a SWOT analysis can be for your personal training practice.
And if you are a personal trainer and want to extend this knowledge to nutrition, pre-and-post natal clients, or beyond, check out our Fitness CPD courses. And if you are looking to become a personal trainer, we have many locations available.
SWOT for Personal Training
Completing a SWOT analysis of your Personal Training skills will allow you to develop your target audience and help further develop your personal brand. SWOT stands for Strengths, Weaknesses, Opportunities, and Threats.
A SWOT analysis will help you to identify your strengths and weaknesses to assist you in establishing your brand and clarifying your position in the marketplace.
It is also a great tool for personal training because you will avoid complacency in your business. If you set up a regular analysis, you can always find ways to improve and adapt to fit your clients' unique needs.
An Example of a SWOT Analysis for Personal Trainers
A basic SWOT analysis is easy to perform. Begin by dividing a piece of paper into four squares. The upper-left square is labeled "Strengths" -- in this square list all of the strengths and competitive advantages of your education, skills and abilities as a personal trainer.
Highlight Your Strengths:
Examples of strengths might be education, certificates gained, the name or location of your employer, or experience working with a particular type of client.
Ultimately your strengths will help you identify your professional traits which are then used to develop a brand identity.
Identify Weaknesses:
The upper-right square is labeled "Weaknesses" - in this square list any and all weakness that you might have as a trainer. Be honest, the more honest you are in assessing your weaknesses, the more opportunities for growth you will identify.
Examples of weaknesses might be the limited visibility of a location, unfamiliarity with specific types of clients such as older adults, being uncomfortable with the sales process and asking clients for money or overall lack of fitness industry experience.
Find Opportunities:
The lower-left square is labeled "Opportunities" - in this square list the opportunities for developing new clients and expanding your business. As mentioned, weaknesses can be turned into opportunities for new business.
For example the lack of education in a specific area of exercise science, is actually an opportunity to take a continuing education workshop to gain the necessary knowledge to work with a specific type of client. Another example would be the ability to offer small-group training as a means of being able to train more clients at one time, thereby increasing earning potential.
Realize the Threats in Your PT Practice
Finally, the lower-right square should be labeled "Threats" -- in this square list all of the threats that might impact the business.
Examples of threats are the general economic climate, the number of other trainers working in a health club or competitors who plan on growing or expanding into the marketplace. In some cases threats are due to external forces which cannot be controlled while in other cases they can be turned into opportunities for new business.
Applying a SWOT Analysis
Here is an example of a SWOT analysis carried out by John who is a recently qualified PT working for a large health club in a major city: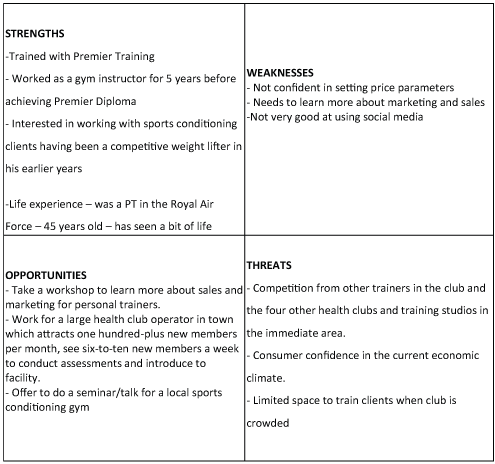 One way that John can create a brand identity is to use the strengths he identified in her SWOT analysis - specifically his military and sports conditioning experience. For example he could create the tag-line: "Sports specific military style training to achieve results" This simple phrase uses his name and the features the services that he offers clients in an easy-to-say and easy-to-remember phrase.
John can establish his brand identity by offering a series of seminars to members in his health club that focuses on the steps necessary in sports conditioning training to help improve sporting performance.
He can use interactions with members to provide information on how to achieve their goals while also differentiating himself from her co-workers who might not have the skills to offer the same services.
Many people join a health club to train for a specific sporting event. If John can establish himself and his brand of training as the most effective for sports performance, he will be guaranteed a steady source of revenue.
Putting it all together
Conducting a SWOT analysis is an important step in establishing a brand identity as a fitness professional. While the SWOT analysis will help you to identify your strengths it is also helpful to indicate areas of weakness that can be improved upon by identifying a weakness in serving a particular demographic that might provide a lucrative source of clients.
Finally, when establishing a brand another important consideration is to attend fitness conferences and workshops in order to identify emerging equipment and trends. It's also important to continue to develop your fitness expertise, so that you can feature the cutting edge techniques in your programs.
The goal is to identify the next trend and use the popularity to extend your brand and build your business. When potential clients see you working with a new piece of equipment they will stop to ask you about it creating an instant conversation and a chance to market your training programs.
Plus think of the buzz as a new product hits the commercial market and consumer magazines and your clients tell their friends "that's nothing new, my trainer's been using that with me for years."